GIS and Cartography
GeoSpatial projects produced and/or managed by Ralph D. Wagnitz
*Note: Some map quality compromised as images sampled at lower resolution JPGs for faster access.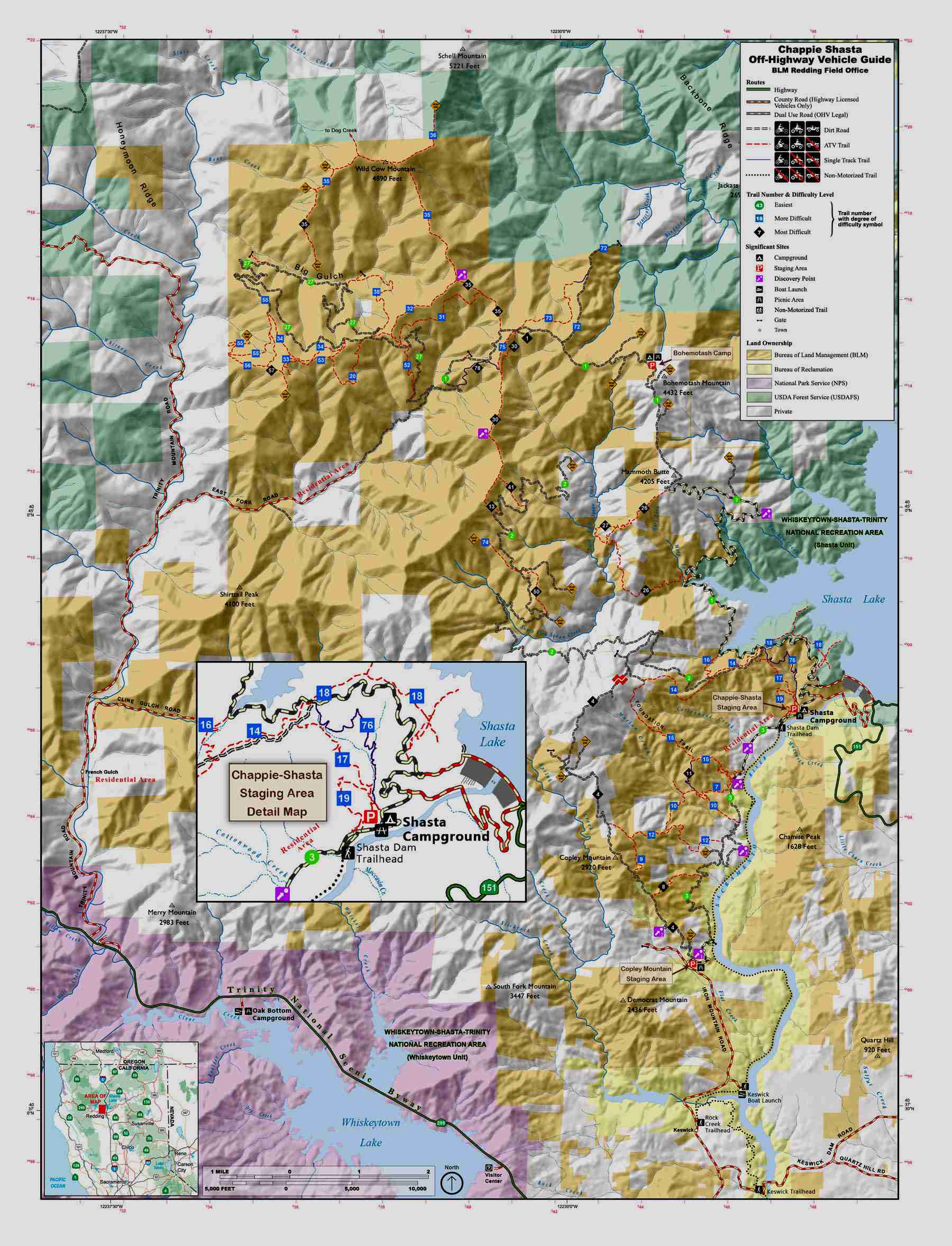 Chappie-Shasta OHV Area, 2012
A nice brochure map I created for the BLM Redding, CA office while GIS Specialist with the US Bureau of Land Management in Susanville, CA.
The GIS layers laid out in ArcMap ver.10 then exported to Adobe Illustrator.



Landcover Project, 2002-2008


From 2002-2007 I managed the data creation, analyses and map production for this large-scale land use change research project for the National Park Service Inventory & Monitoring (Heartland Network) program. The project area encompassed key watersheds of the Cuyahoga River and involved scanning and image rectification of over 300 aerial photographs. I used ERDAS Imagine for image registration and ortho-rectification. I accomplished the aerial photo interpretation, digitizing/editing and delineation of some 30,000 land use polygons using ArcGIS/ArcMap and ArcEditor 8/9.x software. I designed and created GIS databases for the project using both Access and ArcInfo geodatabase formats. Though the project officially ended in 2007, the data, maps, and information are being used by the park Ecologist for presentations to local jurisdictions and the public to increase awareness and interest in watershed health.








GPS and Trail Mapping, 2004-2005


I was project manager for the Cuyahoga Valley National Park Interpretive Trail mapping in 2004-2005. My work included GPS of changes in trails systems, input and calculation of trail networks in the GIS and final map production of all park trail maps in Adobe Illustrator Creative Suite (CS2 and CS3).








Cuyahoga Valley National Park Official Atlas, 2004-2008


During my tenure (2002-2008) with the National Park Service I produced two major park atlases: The Cuyahoga Valley National Park Official Atlas and The Cuyahoga Valley Scenic Railroad Atlas. I presented my innovative mapping techniques used in these and other projects in a published paper and presentation for the 2005 ESRI International Users Conference entitled: Cartographic Quality: ArcMap(s) to Adobe Illustrator for Publication.









GPS Maps for Law Enforcement Rangers, 2004-2008


During my tenure (2002-2008) with the National Park Service I developed a GPS support program for park Law Enforcement Rangers. The Rangers learned to collect their own GPS data for their case studies using portable Garmin GPS units. I taught them to convert their data using MNDNR-Garmin software and then forward to me for input into maps. I made standard "case study" map templates to input their converted GPS data onto high resolution aerial photography. Prior to this process map production for the Rangers required anywhere from 3-5 days. By empowering the Rangers to do their own GPS conversions the mapping process was streamlined into just a few hours!








National Heritage Corridor & Other Projects, 2002-2008


Some of my projects during my tenure with National Park Service, 2002-2008. (clockwise from left): Canalway National Heritage Corridor map (2005); Digital Elevation Model (DEM) for areas of severe flooding in Brecksville, Ohio (2004); Geology Mapping Project (2003-2004); and DEM of Kendall Lake Dam Project (2006-2007).








Rebuild of Historic Towpath Map, 2005


In 2005 I re-created a historic map of the Ohio and Erie Canal Towpath Trail. I used GIS spatial data for the base line and point vectors. Type and other attributes were added using Adobe Illustrator CS for the final published map.









Cuyahoga Valley Scenic Railroad Atlas, 2007-2008


During my tenure (2002-2008) with the National Park Service I produced two major park atlases: The Cuyahoga Valley National Park Official Atlas and The Cuyahoga Valley Scenic Railroad Atlas. I presented my innovative mapping techniques used in these and other projects in a published paper and presentation for the 2005 ESRI International Users Conference entitled: Cartographic Quality: ArcMap(s) to Adobe Illustrator for Publication.









Rural Farm Program with Detail Maps, 2004-2008


I served as GIS project manager for the Countryside Conservancy Rural Farm Program (RFP) from 2004-2008. I built the data management system for the RFP and routinely updated and edited spatial ownership data in a large scale geodatabase that I designed and developed. I coordinated GIS mapping and data needs with the park farming coordinator, The Countryside Conservancy partner organization, prospective lessees, publishers, and the public. In addition I provided database and administrative management for all Special Use Permits (SUPs) involving agricultural leases.









Fire Jurisdictions for Law Enforcement Rangers, 2005




A simple but effective and useful map for Law Enforcement Rangers of local fire department jurisdictions produced in ArcMap 9.











Ownership Map, 2004


From 2002-2004 I managed the park land ownership GIS data. Using ArcInfo command line AML and Avenue programming language I built automated modeling programs and processes that enabled fast and accurate updates of the 33,000 acre ownership tracts and attributes.








Transportation Scholar Poster, 2004


From 2004-2005 the park sponsored a PhD candidate railroad engineer, Mr. Pasi Lautala via the Transportation Scholar Program (aka TRB). As part of the TRB program requirements Mr. Lautala needed to create a 4 ft. x 8 ft. poster displaying his work for a national convention. Pasi and I spent 2 months building this massive poster. Pasi entered the text and photos along with standard logos and I created the GIS maps, imagery and custom graphics for the poster layout which was designed entirely in ArcMap 9








Arcview Non-Point Source Screening Model, 2001


During my brief tenure at the Southwest Florida Water Management District (2001), I designed and programmed a GIS non-point source screening model for Environmental Sciences staff. The project parameters were published and presented in a 2002 paper entitled: GIS Decision Support Tools for Watershed Water Quality Planning (Griffin, Jones, Wagnitz, 2002).








Port Orford Cedar Range-Wide Assessment Team, 1999-2000


From 1999-2001 I served as BLM GIS Analyst/Liaison for the Port Orford Cedar (POC) Gap Analysis project team, a cooperative research effort between the BLM and the U.S. Forest Service / Region 5 & 6. Our task was to examine diseased POC and protect healthy populations. I designed and created complex GIS spatial databases and built thematic maps and illustrations. My work included creation of an elevation dataset covering Southwest Oregon and Northern California, converting and compiling 30 meter Digital Elevation Models (approx. 150 DEMs). I also analyzed imagery and aerial photography, participated in field work and data collection, and provided GIS database management.








Owl Information System, 1997-1999


During my 5 year tenure with the Bureau of Land Management in Roseburg, Oregon, I designed and programmed custom applications for natural resources analyses including the Owl Information System (mapping and modeling of wildlife biological processes); Watershed Age-class Modeler (mapping and modeling of biological and botanical habitats to predict future conditions); and numerous other Arc Macro Language (AML), Avenue (Arcview) and Visual Basic (VB) programs to assist specialists and physical scientists with automation tools, significantly improving efficiency and reliability in repetitive statistical tasks.








For more information contact: Ralph Wagnitz Email: rwgisoh@gmail.com