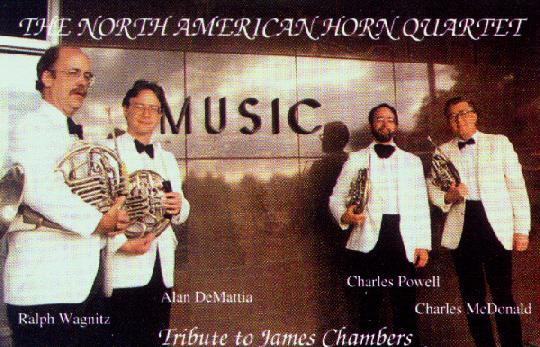 Rather than classify the North American Horn Quartet (NAHQ), as a professional ensemble, one should think more of a Horn "section" of professional hornists. Collectively, the members of the NAHQ have been performing together and individually for a total of over 80 years! Charles McDonald, Ralph Wagnitz, Alan DeMattia, and Charles Powell have played as professional hornists with the highest quality ensembles and musicians in the world.
The group was first formed in 1971 at Akron University in Akron, Ohio, at The Firestone Conservatory of Music. At the time, horn instructor Charles McDonald sought a method to teach his students how to play together with correct style and musical concepts. The group of mostly students became so enthusiastic that they expanded the ensemble to include students from other universities and even free-lance hornists in the Northeast Ohio area. Many "sessions" went on for hours. It was the goal of playing musically that reached these young horn enthusiasts. This unique blend and style of horn performance exists in few ensembles today.
BIOGRAPHIES
Charles McDonald is a former member of Buffalo, Pittsburgh, & Cleveland Orchestras, and for the last 27 years has been both principal and third horn in the The Minnesota Orchestra. While being a member of these orchestras he also taught at several colleges and universities. Ms. Barnett's concerto is one of two concerti that were written specifically for him. Ms. Theresia Perry wrote her Concerto for Horn and Orchestra five years ago (1994) and it was premiered that year in Minnesota by Mr. McDonald.

May 2012: We are saddened to say goodbye to our dear colleague and friend Charlie McDonald (Horn Call, May 2014) PDF
Ralph Wagnitz is former 2nd Horn with  The Cleveland Orchestra, 1972-1984. He performed as a utility hornist with Minnesota Orchestra from 1985-1990. His final years as a professional hornist were as Instructor of Horn and Conductor of the University Brass Choir at the University of Montana, and Principal Horn with The Missoula Symphony, 1990-92. Mr. Wagnitz is currently a playwright and composer having completed his first musical play "PUGET SOUND" in 2007. Visit Ralph Wagnitz' web site.
Alan DeMattia is currently Utility Hornist with The Cleveland Orchestra. He is an active chamber player and soloist throughout the world and also teaches at Cleveland State University.
Charles W. Powell, MD performed as a member of  The South African Broadcasting Corporation Orchestra, 3rd horn with The Hamilton Philharmonic Orchestra, The Royal Brass Quintet and The South Florida Symphony. Dr. Powell retired from music as a profession in 1993 and is currently a pediatrician in the Kansas City area. Visit Dr. Powell's web site.
Performer code: CM = Charles McDonald AD = Alan DeMattia CP = Charles Powell RW = Ralph Wagnitz
Order of codes = 1st, 2nd, 3rd, 4th Horn
The Conn 8D is the horn of choice of the North American Horn Quartet
---
Blessing and Honor - G.F. Handel (from Four Quartets arr. Lowell Shaw)
(AD, CP, CM, RW): Download MP3


E. Bozza: Suite for Four Horns
(*Bozza Horn Quartet recorded with permission of Alphonse Leduc & Cie. Paris, France. Harry Fox Agency, lnc, New York.):
1. Prelude (CM, CP, AD, RW) Download MP3
2. La Chasse (CM, CP, AD, RW) Download MP3
3. Chanson Ancienne (CM, CP, AD, RW) Download MP3
4. Danse (CM, CP, AD, RW) Download MP3
5. Choral (AD, CP, CM, RW) Download MP3
6. Fanfare (CM, CP, AD, RW) Download MP3
Quippery #1 - Lowell Shaw
(CM, CP, AD, Holly Hook, RW) Download MP3


Quippery #3 - Lowell Shaw
(CM, CP, AD, Robert Green, RW) Download MP3


Tribute to James Chambers - arr. Charles McDonald
Dr. Thomas Cook, Conductor (CM, CP, AD, Robert Green, Karl Overby, RW) Download MP3

Tribute to James Chambers: Dedication by Charles McDonald
When James Chambers passed away in 1989 he left behind perhaps the greatest legacy and career of any American-born hornist. Born in 1921 he achieved the Principal Horn position in The Philadelphia Orchestra at age 17, taught at The Curtis Institute at age 22, won Principal Horn of The New York Philharmonic at age 25, and was appointed Professor of Horn at Julliard at age 26!! Many of Mr. Chambers, former students have been hornists with first-class world orchestras and many have achieved high standing as teachers, performers and academicians. The "Chambers Style" of horn playing, (see NAHQ history), has been embraced by entire horn sections of such notable American ensembles as The New York Philharmonic, The Philadelphia Orchestra, and The Cleveland Orchestra. One of James Chambers most memorable explanations of his concepts was "produce a beautifully warm, full-bodied tone at all dynamic levels throughout the entire range of the horn."
With this performance I take this opportunity to say, "Thank You Mr. Chambers" in the form of this short pastiche of musical memories he left the world!


Frippery #1: "Barbershop" - Lowell Shaw
(CM, CP, AD, RW) - Intro by Dr. Charles Powell Download MP3
Live performance recorded May 26 1992 at University of Montana
Richard H. Kuschel, Engineer



About the composers and accompanist.
---